Description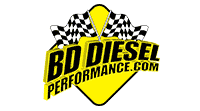 Authorized Dealer
---
The BD-Power 1030362 ProTect68 68RFE Pressure Control Kit for your 2007.5-2016 Dodge 6.7L Cummins adds 56% more theoretical holding power in your 68RFE Transmission. The Protect68 includes a new designed valve body separator plate and gaskets that increases line pressure while stopping internal cross leaks. Also included is a Pressure Control module that delivers up to 250 PSI clutch apply pressure.
The ProTect 68 Electronic Pressure Controller dynamically adjusts the hydraulic apply pressures based on turbo boost/ engine load. The modules dynamic control ramps up the much larger sweep as needed dependent on engine load which creates turbocharger boost dynamically.
Installation takes 2-to-3 hours to complete without having to do a full transmission relearn since no internal tolerances have changed. A fresh stock transmission will have the ability to handle up to around 400HP-4450HP. For higher power or demands, a complete BD 68RFE transmission is recommended.

Features:
56% More Theoretical Holding Power
Increases Line Pressure While Stopping Internal Cross Leaks
Allows A "Fresh" Stock Transmission To Handle Up To 400HP-450HP
Specifications
MFG. Number

1030362

Manufacturer Name

BD-Power

Shipping Weight

4.00 lb.

Shipping Length

24 in.

Shipping Width

15 in.
Shipping Height

4 in.

UPC

019025018310