Description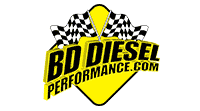 Authorized Dealer
---
BD-Power 1045215 Intake Hose & Clamp Kit
is the easiest way to change the old, worn factory boots on your 03-07 Dodge 5.9L Cummins.
Nothing can put an end to a quarter mile pass or hill climb faster than a turbo hose that blows off. Now, you can eliminate this problem with the BD Hose & Clamp Kit. Featuring eye-catching,
Nomex silicone hoses that can withstand over 100 PSI and are secured by
rugged, spring-loaded, stainless steel T-bar clamps.
Engineered for each individual application, BD hose and clamp kits are a must for any modified turbo diesel.

Features:

Nomex Silicone Hoses Can Withstand Over 100 PSI

Rugged, Spring-Loaded Stainless T-Bar Clamps


Direct Replacement For Factory Hoses
Note: These hoses are for use with stock intercoolers or aftermarket intercoolers that utilize stock boots and tubes.
Specifications
MFG. Number

1045215

Manufacturer Name

BD-Power

Shipping Weight

4.00 lb.

Shipping Length

12 in.

Shipping Width

9 in.
Shipping Height

3 in.

UPC

019025003705