Description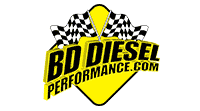 Authorized Dealer
---
Use the BD-Power 1045296 Iron Horn S366SXE/80 0.91 AR Turbo Kit in your 2007.5-2018 Dodge 6.7L Cummins when you want a dependable, non-VGT option. Designed for the ultimate in power, response, and reliability, the Iron Horn Series Turbo Kits replace the problematic factory turbocharger in your truck with a genuine BorgWarner S300 SX-E Turbocharger. Utilizing a high-flow T4 turbine housing, the SX-E was built for performance with a 360-degree thrust bearing, and an enhanced compressor wheel and housing. The high-strength FMW Forged Milled Wheels are lighter and stronger and withstand higher wheel speeds.
Each kit comes ready to install with BD's Performance Plus T4 6.7L exhaust manifold and gaskets. Designed for a drop-in installation, this turbo kit requires no additional piping and simply drops in place for an easy, clean installation. Required tuning not included.
Features:
A/R Ratio: 0.91
Flow: 87 Lb/min
Comp Wheel: 66mm (2.60in)
Turbine Wheel: 80mm (3.15in)
Rated For Approximately 650HP
Air intake kits other than K&N and the OEM intake system may require modification for installation.
Tuner or programmer required for non-VGT turbocharger.
Not available for sale in the state of California
Click here to read Emissions Notice
.
Specifications
MFG. Number

1045296

Manufacturer Name

BD-Power

Shipping Weight

59.00 lb.

Shipping Length

24 in.

Shipping Width

24 in.
Shipping Height

24 in.

UPC

019025020016

Warranty Info

1 Year / 12,000 Miles