Description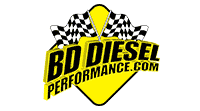 Authorized Dealer
---
The BD-Power 1050060 Remote Fuel Filter Kit for your 2001-2010 GM 6.6L Duramax provides additional fuel filtration for your Duramax engine. The factory equipped GM/Raco design has known issues and was designed with cost in mind over function. This Remote Fuel Filter Kit will work with the factory filter, increasing filtration and it will also help lengthen fuel filter change intervals. Designed to filter down to 5 microns, this kit will easily flow enough fuel to support up to 500HP.

Features:

Provides Additional Filtration

Flows Enough Fuel For 500HP

Replacement Filters Available (see below)

Additional Information
Install Sheet
Specifications
MFG. Number

1050060

Manufacturer Name

BD-Power

Shipping Weight

6.00 lb.

Shipping Length

12 in.

Shipping Width

9 in.
Shipping Height

4 in.

UPC

019025003682