DISCONTINUED - REPLACED WITH BD PART NUMBER 1057931
Description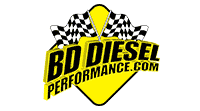 Authorized Dealer
---
The BD-Power 1057731 Throttle Sensitivity Booster increases throttle sensitivity, and reduces that laggy pedal feeling in your 2005-2006 Dodge 5.9L Cummins. Modern vehicles utilize an accelerator pedal position sensor to control engine fueling. Many of these vehicles respond slowly and have poor throttle sensitivity. Much of this is actually caused by the factory programming within the ECM. The BD Throttle Sensitivity Booster corrects this by making the pedal more sensitive and making the vehicle more responsive.
The Throttle Sensitivity Booster includes a wiring harness specially designed with factory style connections for a simple installation. With two modes to choose from, the Throttle Sensitivity Booster can be run on +50% and +100% modes. With the addition of the optional Push Button Switch Kit, the Throttle Sensitivity Booster will provide 6-levels of on-the-fly adjustability. Switch not included, see related products below.
Features:
Reduces Pedal Lag
Quicker Turbocharger Spool-Up
Instant Throttle Response Increase
Installs Easily With Factory Connections
Optional Switch Upgrade For More Levels (See Below)
Applications:
2005-2006 Dodge Ram - 5.9L Diesel
2005-2006 Jeep Liberty 2.8L Diesel
2005-2006 Dodge Ram - 5.7L HEMI
2005-2009 Dodge Magnum/Charger/Chrysler 300 - All engines
2005-2006 Jeep Liberty 2.8L Diesel
2005-2006 Jeep Grand Cherokee 5.7L HEMI/6.1L SRT8
Specifications
MFG. Number

1057731

Manufacturer Name

BD-Power

Shipping Weight

1.00 lb.

Shipping Length

9 in.

Shipping Width

7 in.