Description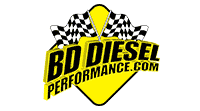 Authorized Dealer
---
The BD-Power 1076616 43% Injector Set increases power and performance on your 2007.5-2010 GM 6.6L Duramax LMM. Excessive smoke, poor fuel economy, rough running, sluggish response or even high vehicle mileage are signs that your injectors might be wearing out. If diagnosis shows you need to replace them on your Duramax 6.6L diesel then this is the perfect set for you.
All BD-Power Duramax 6.6L injectors are built with OE remanufactured bodies. BD's injection lab has common rail test benches to help diagnose any engine performance symptoms or injector calibration. BD Diesel is one of only a few shops with the capability, the know-how and equipment to fully test and rebuild common rail injectors and high pressure fuel pumps. The 43% upgrade is about 90HP over stock and is geared towards street and strip applications for trucks with fuel system, tuning and air flow upgrades.
Features:
+43% Over Stock
Approximately 90 RWHP Increase
Remanufactured To Stringent Specifications
Pre-Tested To Ensure Function & Reliability
Not available for sale in the state of California
Click here to read Emissions Notice
.
Specifications
MFG. Number

1076616

Manufacturer Name

BD-Power

Shipping Weight

14.00 lb.

Shipping Length

18 in.

Shipping Width

14 in.
Shipping Height

7 in.

UPC

019025016408