Description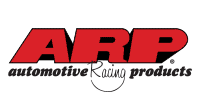 Authorized Dealer
---
The ARP 250-6303 Rod Bolt Kit increases strength in the bottom end of your 1994-2000 Ford 7.3L Powerstroke. These rod bolts are rated at 220,000 PSI tensile strength. Built from ARP2000 material that has considerably better fatigue life and the bolts are reusable compared to the OEM Torque To Yield (TTY) rod bolts which must be replaced after each use. Optimimum design, enhanced reliability and increased strength are the main attributes of ARP's Pro Series Connecting Rod Bolts.
Features:
220,000 PSI Tensile Strength

ARP2000 Construction
Specifications
MFG. Number

250-6303

Manufacturer Name ARP
Shipping Weight 5.00 lb.
Shipping Length 6 in.
Shipping Width 15 in.
Shipping Height 1 in.
UPC